Murdoch Books launches rebrand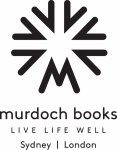 Murdoch Books AU and UK has rebranded as part of an ongoing strategy to expand its position as a market-leading international lifestyle publisher.
'Our rebrand is the visual reflection of an exciting new era for Murdoch Books. One where we are standing on the shoulders of our extraordinary past, while celebrating our place in the world we live in today,' said Lou Johnson, Publishing Director.
For the past two years Murdoch Books has been reshaping its business and successfully diversifying its program by publishing into a broader range of formats and lifestyle categories, which now include: At the table; Healthy body, healthy mind; Conversation starters; and New ways of living.
'We want to share new conversations and ideas for living life well, by providing inspiration and tools for positive change and practical support for your wellbeing,' Johnson said.
Robert Gorman, CEO of Murdoch Books' parent company Allen & Unwin, welcomes the rebrand.
'We are proud to have been the home of Murdoch Books since 2012. As a global, premium lifestyle imprint, Murdoch Books is an essential part of Allen & Unwin's publishing mix, and the rebrand is an important statement of our ambitious vision for its future,' Gorman said.
The new branding is the result of months of research and planning. The 'life force' identity embodied in the company's new logo visualises the idea of attracting and distributing ideas and creativity simultaneously.
In 2019 Murdoch Books will publish a stellar line-up of new titles from authors including: Matthew Evans (On Eating Meat); Katherine Sabbath (Bake Australia Great); Dr Ginni Mansberg (The M Word); and Luke Benedictus, Andrew McUtchen and Jeremy Macvean (The Father Hood).
Category: Classifieds