Congratulations Scott Pape (OAM)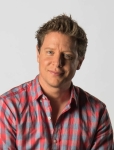 The publishers of The Barefoot Investor and The Barefoot Investor for Families, and the Australian Booksellers Association and Nielsen BookScan, are thrilled to see Scott Pape recognised in the 2020 Queen's Birthday Honours with a Medal of the Order of Australia (OAM) for his 'service to the community, and to financial education'.
Robbie Egan, CEO, Australian Booksellers Association, said: 'Congratulations to Scott Pape for receiving an OAM in this year's round of honours. Australian booksellers have sold thousands of copies of his no-nonsense guides to money and investment. I have witnessed my own kids develop an interest in superannuation, index funds, and budgeting with their incomes, all because of The Barefoot Investor. Australians are now far more inclined to think about and openly discuss money, and what was once a taboo subject is now commonplace conversation. Our financial literacy has improved dramatically, and Scott Pape has driven this change with his bestselling books. Index funds have never been more interesting!'
Jim Demetriou, CEO, HarperCollins Australia, said: 'Scott Pape's books are an extraordinary piece of positive social engineering, inspiring and enabling millions of Australians to educate themselves and their children about the importance of financial security. Beyond the bestseller lists and phenomenal contribution to booksellers' bottom lines, this legacy, acknowledged in this OAM, reminds us that the very best books can change lives. Congratulations, Scott.'
Lucy Raymond, Senior Editor, Wiley, said: 'Congratulations to Scott Pape, The Barefoot Investor, for the OAM awarded for service to the community and to financial education. His common sense and practical advice has inspired millions of people to get in control of their finances and make money an acceptable and recommended conversation topic for couples, young families and across the generations. Words and phrases such as Smile, Splurge, Mojo and Barefoot Date Nights are now part of the lexicon for many Australians. Beyond his bestselling books, Scott's advocacy for widespread access to sound financial advice has provided a pathway for many to develop a more positive relationship with money.'
According to Nielsen BookScan, the leading provider of search, commerce, consumer research and retail sales analysis services for the book industry, The Barefoot Investor for Families (HarperCollins) has sold an average of 15 copies every hour since its release date in September 2018, with the first week of sales seeing Australians buy hundreds of copies every hour. The record-breaking first week of sales for Pape's follow-up title to the original The Barefoot Investor (Wiley) saw an average of 444 copies per hour sold as measured through the Nielsen BookScan Australia retail panel. To date, The Barefoot Investor for Families has sold 228,500 copies and is now in Australia's Top 20 highest selling nonfiction titles, and is the 10th highest-selling Australian-authored nonfiction title since Nielsen BookScan records began in December 2002.
Pape's first book, The Barefoot Investor, published 22 November 2016, has sold over 1.3 million copies to date, making it the second bestselling title in Australia, the bestselling Australian-authored title and the top-selling nonfiction title since Nielsen BookScan records began in December 2002. Within the personal development genre, Pape is Australia's all-time bestselling author.
Category: Classifieds