Title showcase: 'From Distress to Deliverance' by Stephen Gow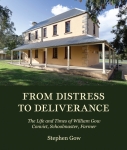 Title: From Distress to Deliverance
Author: Stephen Gow
Publisher: Self; Inscope Books
Price: 75.00
ISBN: 9780646803791
Distributor: via author by
email
How was a young man sentenced to hang at the Old Bailey in 1816 appointed as one of the first schoolmasters in NSW two years later?
This is the remarkable story of William Gow, whose teaching career at Wilberforce, near the Hawkesbury River, bore testimony to Governor Macquarie's redemptive vision for convicts.
This illustrated book reveals how, through a combination of opportunity, education, faith and perseverance, William left an enduring legacy—a journey 'From Distress to Deliverance'.
Category: Title showcase