Title showcase: 'Once Upon A Hume' by Stephen Gard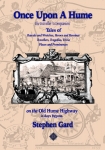 Publisher:
BlueDawe Books
Once Upon A Hume takes the reader on a journey down the 'Great South Road', personality by personality, rather than place by place.
Anecdotal, informative, and chatty, it peoples the Hume Highway landscape with vivid characters and occurrences from long ago, profiles prominences, explains place-names, and makes an absorbing panorama of the passing show. We start at Leppington, and take a break at Mittagong.
The first of several volumes about folks who dwelt Once Upon A Hume.
Contact details
Name: Stephen Gard
Company: The Bluedawe Group
Phone: 02 4603 0036
Email: bluedawebooks@stephengard.com.au
URL: www.stephengard.com.au
Category: Classifieds