'Clever Guts'—the number 1 bestselling title—reprint now available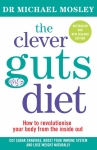 Following a hugely successful tour by author Dr Michael Mosely, The Clever Guts Diet is the number one bestselling title in Australia! A rush reprint has arrived at United Book Distributors and stock is available to order now.
ISBN 9781925596038, RRP $29.99, paperback. Simon & Schuster Australia.
Category: Classifieds