'All the Ways to Be Smart' reprinted ahead of publication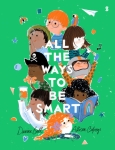 All The Ways to be Smart (Davina Bell & Allison Colpoys) to be published on October 15 by Scribble, has already been reprinted before publication, following huge support and enthusiasm in the trade for this third release from the award-winning duo.
Early reviews for All The Ways to be Smart are in:
'Joyous, imaginative and life-affirming…will likely become a classic'—Books+Publishing
'The perfect picture book' —Words & Illustrations
Publicity tour: Brisbane (Riverbend Books 18/10, Where the Wild Things Are, 19/10 ), Sydney (Better Read Than Dead 25/10), Melbourne (Kids Book Fest at Fitzroy Town Hall 13/10, Storytime at Readings Kids 26/10, Book Launch at North Fitzroy Library 28/10 ). Please contact Kate O'Donnell for bookshop visits.
International rights already sold in France and Italy. Previous books sold into 10+ territories.
Over 10,000 copies of their previous book Under the Love Umbrella sold.
The duo has previously been awarded ABIA Small Publisher Children's Book of the Year (winner 2016, shortlisted 2018), ABDA Best Designed Children's Illustrated Book (2016 & 2018), CBCA Crichton Award (2016).
Order your copies through UBD.
Category: Classifieds