'Boy Swallows Universe' sells over 100,000 copies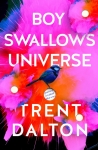 HarperCollins Publishers Australia is celebrating a major milestone for Trent Dalton's Boy Swallows Universe, which has now sold over 100,000 copies across all formats in Australia alone since its publication in July 2018.
Dalton's debut novel has been embraced by readers around Australia and is now attracting critical acclaim–it was recently shortlisted for the 2019 Indie Book Awards and last week it was announced as the winner of the 2019 MUD Literary Prize. Boy Swallows Universe has also become an international publishing phenomenon—due to be published across all of the major publishing territories, and in more than 28 languages, with more deals to be announced in the near future, including for screen and theatre rights.
Category: Classifieds