Walker Books Australia announces new Jon Klassen picture book for 2021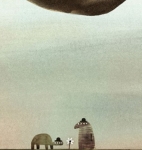 Bestselling and award-winning picture book creator Jon Klassen will publish a new book to be released worldwide in March 2021.
The Rock from the Sky is a hilarious meditation on friendship, fate, and that funny feeling you get when there's something off but you just can't put your finger on it. Merging broad visual suspense with his trademark wry wit and existential silliness, Klassen has created a wholly original comedy for the ages.
Candlewick Press executive editorial director and associate publisher Liz Bicknell acquired world rights to the book on behalf of the Walker Books Group from Steve Malk at Writers House.
For more information visit the website here.
Category: Classifieds