Murdoch Books to publish new book from OzHarvest founder Ronni Kahn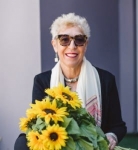 Murdoch Books is proud to announce it will publish A Repurposed Life by Ronni Kahn and her daughter-in-law Jessica Chapnik Kahn on 29 September 2020.
Far more than a memoir with a message, A Repurposed Life will explore how the dynamic founder of food rescue movement OzHarvest found her purpose, made change happen, and how you can do the same.
'During the past 15 years I have learnt so much about myself and the world through starting and growing OzHarvest. I hope this book helps others discover the deep sense of meaning that is available to us when we tap into the joy of living a life of service,' Kahn said.
'I'm thrilled to be working with Murdoch Books to bring my journey to the broader public.'
This exciting acquisition from publisher Jane Morrow will sit within Murdoch Books' Conversation Starters category, and appeal to readers who are drawn to compelling personal stories and the themes of community, generosity, and finding life-purpose.
'Ronni lights up the room wherever she goes and challenges us all to look outward rather than inward. This book is going to be a unique blend of raw memoir and inspiration,' Morrow said.
For more information please contact Head of Marketing and Communications, Carol Warwick carolw@murdochbooks.com.au 02 8425 0184.
Category: Classifieds