Herron Books Christmas commitments are very strong this year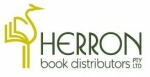 Herron is receiving substantial orders this year as the impulse and value offers are more important than ever.
If your store needs a simple, last minute Christmas pack solution with an attractive, fresh and irresistible offer, go to our website at herronbooks.com and click on your required pack size. POS is also available. It's easy.
Category: Classifieds