Footprint Books to close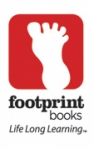 It is with great sadness that we announce the closure of Footprint Books at the end of October, 2020. Due to sudden and serious health issues for my husband and co-director we regret that we have been forced to make the decision to close our doors. We are so very sorry for the inconvenience that this may cause, especially at a such a difficult time for everyone.
This is quite a complicated exercise as publishers choose different new partners so please find important information below.
A number of publishers are moving at June 30th, 2020. This has already been announced to the trade with a returns cut off June 30, 2020.
Woodslane will make an announcement this week about the publishers that will be available from them from August 1st 2020. Please contact us or Woodslane on 02 8445 2300 or email info@woodslane.com.au for a list of publishers if you missed this announcement.
We will cease invoicing for these publishers COB July 24, 2020
All backorders will be passed over to Woodslane as at July 31, 2020 for those publishers
AUTHORISED returns in accordance with our returns policy will be accepted until COB July 31st, 2020 for these publishers. Please contact our customer care team on (02) 9997 3973 or email sales@footprint.com.au for any queries on such returns.
Second Semester textbooks will be available from Footprint Books on behalf of the following publishers, American Psychiatric Assoc; American Psychological Assoc; Brookes Publications; Guilford Publications; Human Kinetics; SAGE; and Scion. Please contact Kate O'Reilly kateor@footprint.com.au for details of supply.
Please ensure this information is passed on to all relevant members of your team.
We wish to thank everyone for their support over the past 20+ years.
Kate O'Reilly & Simon Player
Category: Classifieds