The Second Son by Loraine Peck (Text Publishing)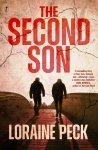 The Second Son, a thrilling debut from Loraine Peck, will be released in February 2021. Supported by a high-profile promotional campaign, it's set to be one of the biggest crime novels of the new year.
When Ivan Novak is shot dead putting out his garbage bins in Sydney's west, his family wants revenge. Especially his father, a notorious crime boss. It's a job for the second son, Ivan's younger brother Johnny. But Johnny's loyalty is torn and his beloved wife Amy is threatening to leave with their son Sasha. Johnny stakes everything on a heist, but can he afford to pay the price? And what price is paid by the women in this world where honour is everything?
In Peck's action-packed debut, violence is its own language and love means breaking all the rules.
Praise for The Second Son:
'A compelling story of fear, love, violence and—ultimately—hope, a modern-day Godfather.' Anna Downes, author of The Safe Place
'Outstanding…a gripping whodunnit. Original and straight from the heart.' Kate London, author of Gallowstree Lane
Contact Stef Italia to request a bound proof or request a digital copy from NetGalley, and click here for more about The Second Son.
Category: Classifieds