Walker Wednesday looking for new Australian YA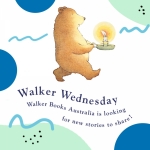 This year, Walker Books is focusing on new, diverse Australian YA voices in our annual Walker Wednesday open submissions. Walker Wednesday will take place on Wednesday, 16 June.
With a strong international list of YA authors, including Patrick Ness, Angie Thomas, Cassandra Clare, Neal Shusterman and Lauren James, Walker Book Australia is looking to invest in growing our local YA author list.
Walker Wednesday is open for picture books, fiction, nonfiction and YA. All submissions for Walker Wednesday will be accepted on the submission date only. Submissions can be lodged here.
Category: Classifieds