Last day for discounted bookmarks and bookplates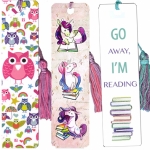 Australian Bookmarks and Bookplates is closing today.
Everything now discounted by 70%.
Bookmarks: $2.40 per pack of 6, ex GST. Fantasy, animals, humorous, inspirational and zodiac designs.
Bookplates: $1.03 per pack (12 bookplates per pack) ex GST. Eight designs, including the popular Wise Owl on Books.
www.wholesale.austbookmarks.com.au
Category: Classifieds